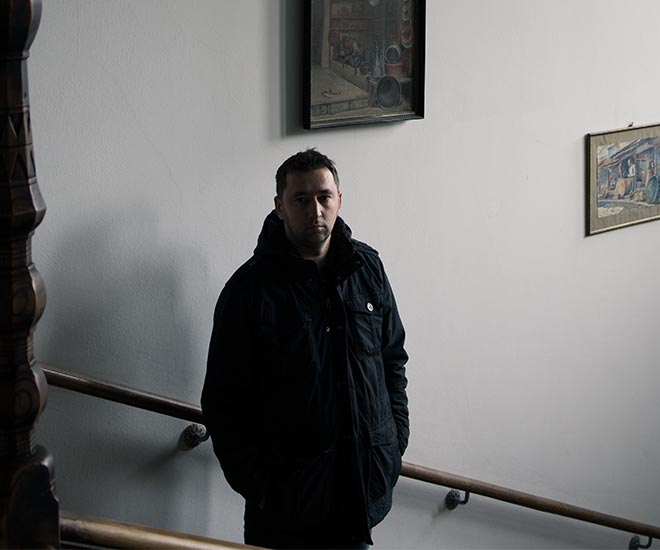 ERNIS ŠLJIVO
KUSTOS NA ODJELJENJU ZA ETNOLOGIJU ZEMALJSKOG MUZEJA OD 2005. GODINE.
"DANAS NAŠ RADNI DAN IZGLEDA KAO DEŽURSTVO U MUZEJU, OD NEKOLIKO SATI, DA SE OBIĐU SVE ZBIRKE I PROSTORIJE. JEDNOSTAVNO SMO VEZANI ZA SVE ŠTO SE OVDJE NALAZI, ZA EKSPONATE, ZA KOLEKCIJE... DOGOVOR IZMEĐU RADNIKA JE BIO DA SE TO ČUVA, DA SE OČUVA I DA NIŠTA NE FALI."
CURATOR AT THE ETHNOLOGY DEPARTMENT OF THE NATIONAL MUSEUM OF BOSNIA AND HERZEGOVINA SINCE 2005.
 
"CURRENTLY, OUR WORK CONSISTS OF DOING A GUARDING SHIFT AT THE MUSEUM FOR A FEW HOURS, INSPECTING ALL THE COLLECTIONS AND ROOMS. WE CARE ABOUT EVERYTHING THAT'S HERE: THE ARTEFACTS, THE COLLECTIONS...  THE STAFF MADE AN AGREEMENT: WE WILL PROTECT THESE THINGS, PRESERVE THEM AND MAKE SURE EVERYTHING IS IN ORDER."