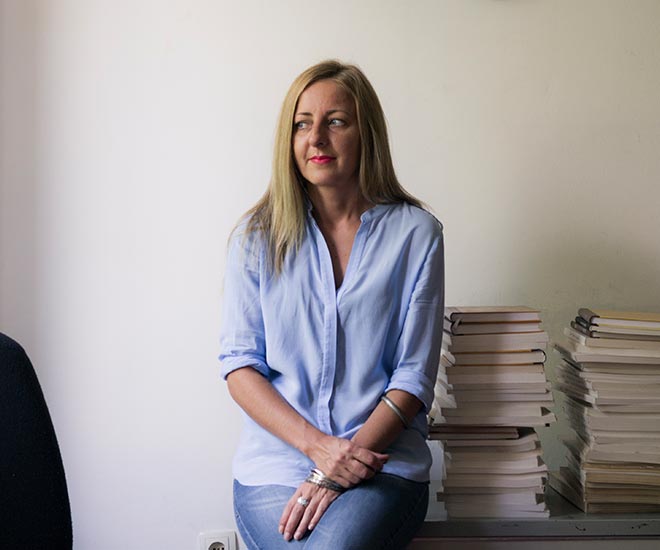 ERMINA BAHTANOVIĆ
ADMINISTRATIVNA TEHNIČARKA. U ZEMALJSKOM MUZEJU BIH OD 2008. GODINE.
"MUZEJ SE VOLI I ŽIVI. KADA POMISLITE NA TO ŠTA SE SVE OVDJE NALAZI I KOLIKO JE NAŠE ISTORIJE U OVOM MUZEJU, ONDA OSJEĆATE DA STE DIO NEČEG VELIKOG. ŠTO SE TIČE NAŠIH PRIVATNIH ŽIVOTA, JEDVA SASTAVLJAMO KRAJ S KRAJEM. IPAK, UJUTRO USTANEM, NASMIJEM SE I DOĐEM NA DEŽURU U MUZEJ."
ADMINISTRATIVE STAFF. AT THE NATIONAL MUSEUM OF BIH SINCE 2008. 
"THE MUSEUM SHOULD BE LOVED AND LIVED. JUST THINKING ABOUT ALL THE ARTEFACTS HOUSED HERE AND HOW MUCH OF OUR HISTORY IS AT THE MUSEUM MAKES YOU FEEL YOU ARE PART OF SOMETHING GREAT. IN TERMS OF OUR PERSONAL LIVES, WE ARE BARELY MAKING ENDS MEET. STILL, I GET UP IN THE MORNING, PUT ON A SMILE AND COME TO MY SHIFT AT THE MUSEUM."