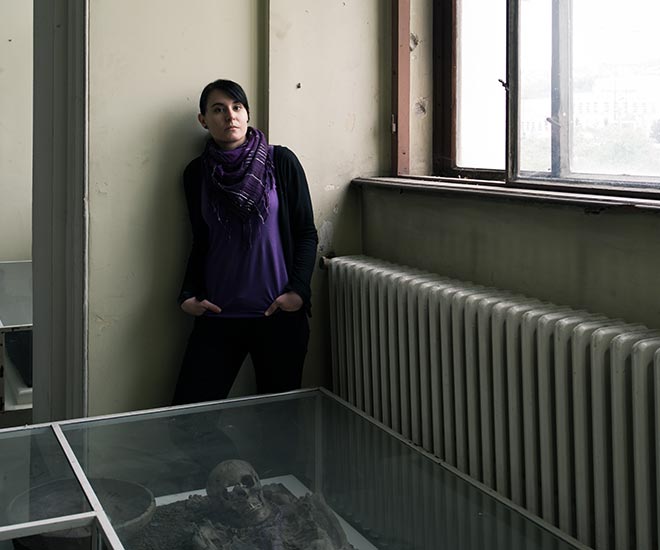 ANA MARIĆ
KUSTOSICA ZA MLAĐE ŽELJEZNO DOBA I NUMIZMATIKU NA ODJELJENJU ZA ARHEOLOGIJU. U ZEMALJSKOM MUZEJU BIH OD 2009. GODINE.
"RADIMO ISKLJUČIVO IZ OSJEĆAJA ODGOVORNOSTI PREMA MATERIJALU KOJI ČUVAMO. VIŠE OD ČETIRI MILIONA OBJEKATA I PREDMETA NALAZI SE OVDJE. DANAS SMO U MIRU, A ODNOS PREMA MUZEJU I ONOME ŠTO ČUVA JE GORI NEGO U RATU."
CURATOR FOR THE EARLY IRON AGE AND NUMISMATICS AT THE ARCHAEOLOGY DEPARTMENT. AT THE NATIONAL MUSEUM OF BOSNIA AND HERZEGOVINA SINCE 2009.
"WE GO TO WORK ONLY BECAUSE WE HAVE A RESPONSIBILITY TOWARDS THE OBJECTS THAT ARE IN OUR SAFEKEEPING. THERE ARE OVER FOUR MILLION OBJECTS AND ARTEFACTS HERE. ALTHOUGH IT'S PEACETIME, THE MUSEUM AND ITS ARTEFACTS ARE BEING TREATED WORSE THAN THEY WERE DURING THE WAR."