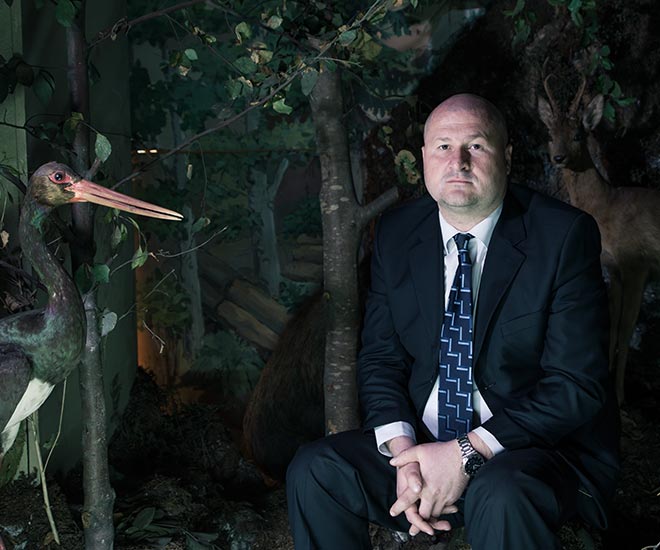 ADNAN BUSULADŽIĆ
DIREKTOR ZEMALJSKOG MUZEJA BIH OD 2008. GODINE.
"NALAZIM SE IZMEĐU ČEKIĆA I NAKOVNJA: IZMEĐU PRAVEDNE BORBE I ZAHTJEVA KOLEKTIVA MUZEJA, OPTUŽBI LJUDI KOJI O MUZEJU NE ZNAJU NIŠTA, ALI IMAJU ISKRIVLJEN STAV, TE POLITIČKIH SUBJEKATA. OSJEĆAM SE KAO DA SJEDIM NA VREĆI PUNOJ EKSERA. KAKO GOD DA SJEDNEM, NEKI EKSER ĆE ME SIGURNO UBOSTI. SVAKO...
DIRECTOR OF THE NATIONAL MUSEUM OF BOSNIA AND HERZEGOVINA SINCE 2008.
"I'M CAUGHT BETWEEN A ROCK AND A HARD PLACE: BETWEEN THE JUSTIFIED STRUGGLE AND DEMANDS OF THE MUSEUM STAFF, ACCUSATIONS BY PEOPLE WHO DON'T KNOW ANYTHING ABOUT THE MUSEUM BUT HAVE THE WRONG IDEA, AND POLITICAL SUBJECTS. I FEEL LIKE I'M SITTING ON A BAG FULL OF NAILS. NO MATTER HOW I SIT DOWN, I'M BOUND TO GET HURT. EVERYONE HAS A POINT OF VIEW, AN OPINION, AN INTEREST, A NEED, AND ALL WE WANT TO DO IS SAVE THE MUSEUM."